|| As an Amazon Associate I earn from qualifying purchases ||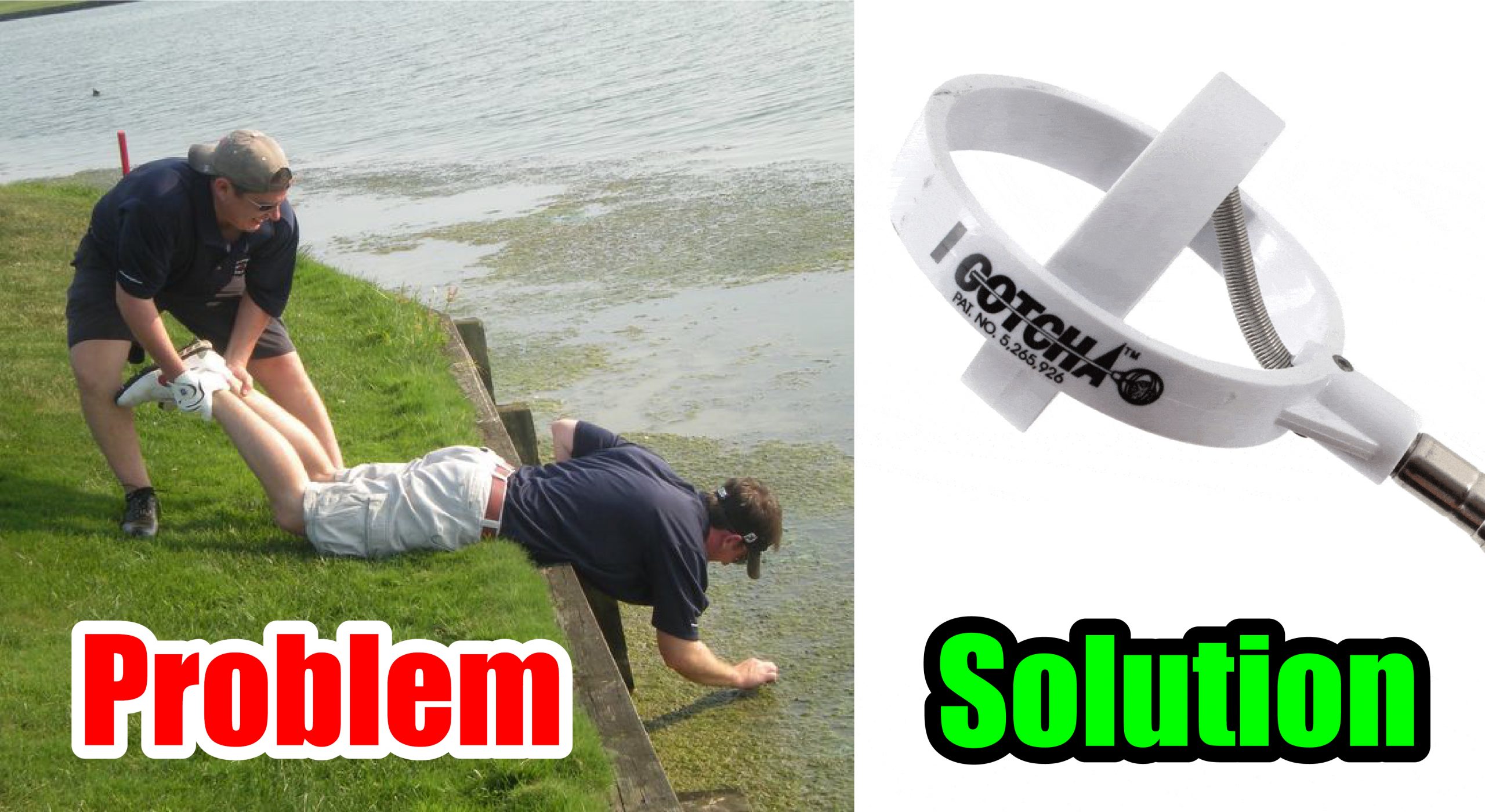 Golf is an expensive game- you have to spend money at every step of the game. You have to pay to practice in the driving range, you have to pay even more to play on the course. Let's not even talk about the price of the golf clubs and the golf balls.
To make things worse and exciting, the golf courses are filled with water bunkers and hazards. It is easier to lose a ball than to score a par. You may feel like retrieving the ball from the water bunker seems very weird. But, why not save the money you can? Why should you let a newly bought expensive golf ball just go to waste?
This is why many golfers carry the best golf ball retriever with them. These are easy to keep in the bag and help you save money by saving your golf balls. Let's check out the things you have to consider when buying a golf ball retriever. Also, let's get to know some of the best available in the market.
Best Golf Ball Retriever: The Reviews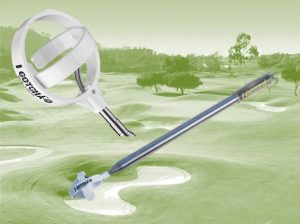 1. GOTCHA Golf Ball Retriever
Looking for a golf ball retriever that has a long reach but is also quite easy to carry around because it's compact? Then, you are probably looking at the right one. This IGotcha golf ball retriever actually has a maximum reach of 14 feet. That's quite a good reach if you ask me.
Furthermore, it collapses to 17.5 inches when you want to just carry it in the golf bag- now that's compact. The shaft is telescopic in nature so it's quite easy to adjust for portability. The shaft thickness and material also makes it quite stable in its job.
Apart from that, it has a Spring release Ready Head with a Spring Trapping mechanism. These two together make locking the ball in it quite easy. As a result, you can easily retrieve the golf ball that you thought you lost forever.
One trouble with this locking mechanism is that- it can be flimsy in a few cases. If you somehow receive a flimsy unit then it will be very hard for you to retrieve the golf ball.
Overall, this golf ball retriever is one of the best out there as long as it works. The price is also just right for what it provides you with. It usually lasts quite a while.
Pros:
The reach of the golf ball retriever is quite good.
It collapses to a very convenient size for portability.
The locking mechanism for retrieving the ball is quite clever as long as it works.
Good value for the price.
It has a durable build and is quite stable in nature.
Cons:
If the locking mechanism somehow turns out to be flimsy, you will have a hard time retrieving the ball.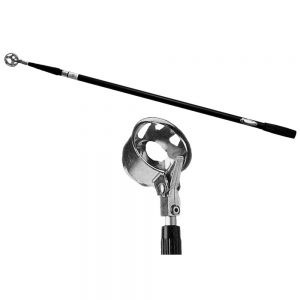 2. ProActive Sports Hinged Cup Retractable Golf Ball Retriever
Want a good quality golf ball retriever that will last? Then, you can try out this ProActive Sports Hinged Cup retractable golf ball retriever. In fact, this retriever has a lightweight aluminum tubing in its build.
What is contradictory is that even though the material building it is lightweight- it is not lightweight. The retriever is quite heavy and it isn't compact either- it is fat in nature and will take up quite some space in your golf bag.
So, why should you buy it? Because of its durability and the ease of use it offers. Apparently, the retriever has a hinged cup design which is quite easy to use with time. At first, you may find it hard to lock the ball in the retriever but by bending and locking it a few times- you will understand how to do it at one go. So, there is a learning curve and once you are through it- you will love how convenient this retriever is.
The retriever is quite budget-friendly price-wise as well. So, overall you get a good value for the money if you are alright with carrying a bit more weight.
Pros:
It has a good reach of 12 feet.
The rubber handle is comfortable to hold and provides a good grip as well.
The locking mechanism is quite innovative.
It is built with quality materials.
Good value for the price.
Cons:
The retriever is a bit heavy and fat in nature so it takes up a lot of space in the golf bag.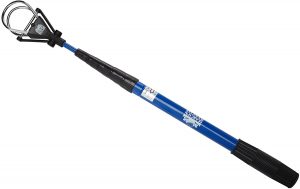 3. Search and Rescue Retriever
Do you want to reach quite deep to save your golf ball? Then, you may be able to rely on this Search and rescue golf ball Retriever. In fact, it has quite the maximum reach for you to choose from. You can either choose the one with a maximum reach of 15 feet or go with the one with a maximum reach of 19 feet.
Will such a long length make the retriever unstable? Not at all. Apparently, this retriever is not just built with good quality materials, it also has a design that helps it stay stable. The retriever is quite heavy and the weight is uniformly distributed. The only con of this weight is that you may get tired when using the retriever. But, the best news is that the retriever does not break under its own weight.
Then, we have the locking mechanism to praise. Apparently, it has a unique head design with stainless steel rings that you can lock around the ball. This, like any other, retriever will require some work on your part to get used to it. Once you get the hang of it- how it works, the techniques that make the process fast- you will love this retriever.
It is made of weather-resistant, powder-coated aluminum which is not as lightweight as the description claims but it sure is durable. The retriever is not the cheapest but it does provide really good service for the price you pay. It's best if you check out the mechanism a few times first to see if this will work for you or not.
Pros:
It has a really great reach- you can retrieve the ball form most places using it.
The locking mechanism is quite unique and effective.
Good quality builds with the best quality materials.
It turns very compact for storage or for portability.
Not the cheapest but it provides a good service for the money.
Quite stable in action.
Cons:
A bit heavy in nature- it can cause fatigue.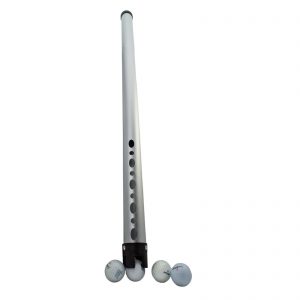 4. The Practice Stick Ball Shagger
Do you want to retrieve a number of golf balls at once using the retriever? Then, this Practice Stick Ball Shagger may be what you are looking for. Apparently, it is more suitable for golfers who do not want to bend down to pick up their ball when practicing.
You may not be able to use this one for retrieving balls from water bunkers or hazards as it does not have that long of a reach. But, if you are putting with a number of balls and bending to pick them hurts you- this will have your back!
It has a tube-like design that is made of plastic. Don't worry because the plastic that makes this golf ball retriever is quite a durable unit. Many customers have even dropped it accidentally and they saw no damage.
Apart from that, there is a spring mechanism that helps you lock and release the golf balls from this retriever. If you ever do face in problem then it will be with this mechanism. The spring mechanism may break or it may get loose. It's not that this happens all the time but this is the only thing that may go wrong with this retriever.
Other than that, the retriever is quite affordable and reliable for the job it's supposed to do. It isn't the most compact- but it's easy to carry around because it isn't heavy.
Pros:
The Retriever will retrieve around 23 balls together.
It is a great choice for those with back problems and those who do not want to bend down to pick up the ball.
The build is of plastic but it is very durable.
A very easy mechanism to release and lock the golf balls in the retriever.
Good value for the price.
It is lightweight.
Cons:
The lock mechanism may break or become flimsy.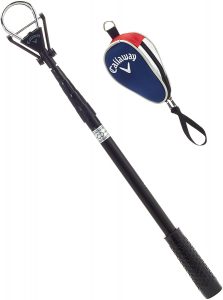 5. Callaway Golf Ball Retriever
Now Callaway is a name you can trust when it comes to golf. The Callaway golf ball retriever stays true to the Callaway quality with its incredible design. In fact, you will find this retriever very easy to use.
It has a stainless steel retriever mechanism that is quite easy to understand. Just practice it a few times and you will find retrieving golf balls from hazards a piece of cake. Apart from that, the build quality of this retriever is also quite great.
It has aluminum alloy in the build which makes it lightweight and quite durable. Now, the problem is with the stability of the retriever. Apparently, the weight is not distributed evenly. As a result of which when you extend this retriever fully and put too much pressure at the other end, it may just end up breaking in two.
Overall, the retriever is very compact in size and will fit right in your golf bag with the other clubs.
It also comes with a headcover. The reach of the retriever is 15 feet which is a good reach as well. Apart from that, the price seems quite reasonable too. You will like using this retriever once you get the hang of it. The handle of the retriever provides you with a good grip as well.
Pros:
The retriever is built with good quality materials.
It is lightweight.
The locking and retrieving mechanism is quite easy to understand and effective.
It fits right in with its compact build.
The handle is comfortable and provides a good grip too.
Cons:
It can be quite flimsy when fully extended.
Best Golf Ball Retriever: The Buying Guide
You have to pay attention to details when buying a golf ball retriever. Here are a number of factors that you must consider.
The Length of the Shaft
You need to know when to lose your hope for finding a golf ball in the water and when to hold on. A lot can depend on the size of the ball retriever. In fact, you should choose a golf ball retriever that has a length long enough to reach quite far to retrieve your golf ball.
It should definitely reach much farther than your hands can reach- maybe not the middle of the lake but a bit further from the corner. This is where you have to consider how far you are willing to go for your golf ball.
There is also one more thing you have to keep in mind. The longer the shaft, the more the chance of it breaking. So, if you are choosing a golf ball retriever that is quite long- you need to pay extra attention to the material building it as well.
The Stability of the Retriever.
A shaft of any length will be quite useless if it just breaks in two while you are at saving your golf ball. This is why the stability of the retriever matters. If the shaft bends when you have fully extended it, you may have a hard time grabbing the golf ball.
When you finally manage to grab the ball, you will find the shaft breaking or bending too much making it hard for you to retrieve. This is why the golf ball retriever must be made of high-quality material. Furthermore, the weight should be distributed cleverly so that no part of the retriever experiences too much pressure that it breaks.
So, it is best if the whole of the shaft is uniformly thick.
The Security of the Ball.
There are golf ball retrievers that have a net-like ending to catch as many balls in it as it can. On the other hand, there are those golf ball retrievers that have a secure mechanism to hold on to that one ball. Whichever mechanism you are after, you should make sure that it is effective.
If the system is a grab and lock system then it should do it well- without letting go of the ball at any point. It is an obvious consideration because what good is a retriever if it cannot even hold on to the golf ball? Apart from that, you should look into the ease of use as well. The mechanism should not be so complex that it lengthens your retrieval process and makes the other golfers angry at you.
The Weight and Size of the Retriever.
You do not want the golf ball retriever to take up a lot of space in your golf bag. It should not be too heavy and usually, golf retrievers are not heavy- they are quite lightweight. What matters more is how much space do they take?
If you are buying a particularly long golf ball retriever then you should look for features that help you shorten it when you carry it. A collapsible golf ball retriever will be a very clever idea in this case. So, look for such portability features.
But, don't just be impressed by the design. Check the reviews of actual customers to find out how well the retriever actually collapses. Is it hard to bring it to a convenient size? Or, does the collapsible feature cause more trouble?
The Handle of the Retriever.
The part of the retriever that will be in contact with you most and the part that you will have full control over is the handle of the retriever. This is why it is essential that you check how the handle of the golf ball retriever is built. It must be comfortable to hold. What brings comfort in this case? A well-padded handle will be much more comfortable to hold than one that seems like a rock.
Apart from that, it should provide you with a good grip over the retriever. Since you will be trying to find the golf ball in water and then grab it- you need a handle that won't just slip. So, a handle that is comfortable with patterns that help you gain good control over it is a must.
The Cost of the retriever.
You will definitely find golf ball retrievers of all price levels. In this case, you just get what you pay for. The more advanced and innovative the design, the pricier the retriever will be. Apart from that, the material building the golf ball retriever plays an important role too.
Aluminum alloy and such high-quality materials are excellent choices in case of durability. Furthermore, such materials also make the retriever lightweight. Therefore, if you want a high-quality retriever that will make things easy for you and also last long enough, you need to look above the cheapest price range.
Best Golf Ball Retriever: The Benefits 
With so many different kinds of expenses in golf, why should you go a step further and invest in a golf ball retriever? Well, because it is an investment and it will give you back the money in a different way. Let's take a look at the benefits you will enjoy.
Save more Money
A golf ball retriever will save you from buying golf balls too often as you lose them to the water bunkers. Unlike other balls, golf balls are quite expensive and the loss of them multiplies with time. Therefore, the golf ball retriever helps you save a lot of money in the long run. A little bit of investment actually helps you save much more than its original price.
A bit of distraction
Sometimes your body gets tired and monotonous from the endless tests of accuracy and swing in golf. When you lose a ball, it further demotivates you. So, when you try and find the lost ball- you feel like it's not the end of the world, and you can start anew. So, you get to start the game again with a positive outlook. And, each stroke counts so you will be able to focus on the latter strokes fully.
Saves Time
At times you will be trying to save the ball with or without a golf ball retriever. But, you will surely save it faster with a retriever because after all, it is built to serve this purpose! So, it's best to not irritate the golfers around taking forever to retrieve your golf ball.
Best Golf Ball Retriever: Frequently Asked Questions
How does a golf ball retriever work?
Answer: Their main function is to find the ball, lock it in them using some kind of mechanism, and then you bring it to shore or yourself. Now, this lock and release mechanism is different in different retrievers. Some use a spring mechanism, some stainless steel rings. Each has its own pros and cons.
Does a retriever count as a club in a golf bag?
Answer: No, retrievers and umbrellas are not counted as golf clubs in the golf bag. They are not part of the 14- clubs you can carry.
Final words
As you can understand golf ball retrievers are actually something golfers buy. Because they provide you with quite a number of benefits and saving your money is definitely one of them. However, you need to choose the golf ball retriever very carefully so that this expenditure does not turn out to be just a waste.
You have a number of things to consider and a lot of brands available at the tip of your finger. The information you need is also available at the tip of your finger. So, use them all to find the best golf ball retriever for yourself.