|| As an Amazon Associate I earn from qualifying purchases ||
A wedge would be a great option if you want to make accurate short distance lob shots. How to find the best wedge for you? Well, the Cleveland CBX wedge is an amazing option. We hope this Cleveland CBX wedge review will help you out. In this article, we will be talking about how Cleveland is an incredible golf wedge and the impressive features it comes with. So without further ado, let's get right into it! A wedge is a subset of the iron family of golf clubs specially designed for use in specific situations. Wedges have the highest lofts, the shortest shafts, and the heaviest club-heads of the irons. If you're a beginner in the world of golf, you might be overwhelmed by the golf club choices.
Cleveland CBX Wedge Review
The Cleveland CBX wedge was built for most of the golfers who use game improvement equipment. The Wedge provides a tour-level spin and control, along with all the forgiveness you need with this amazing golf wedge. If you are a beginner then this article might help you with swing technics. This lightweight wedge was designed in order to assist golfers who prefer cavity back irons to make the ball reach the hole easily. The Cleveland CBX comes with various amazing features. These features are described below.
Features:
Rotex Face: The Rotex CBX comes with Rotex Face technology. This technology allows tour zip grooves, micro-milling, and laser milling for producing tour-level spin. These aggressive grooves help the face steer away from the debris, providing a more consistent fuller shot from the fairway and from the rough. This feature is proven to provide maximum spin and this makes the CBX wedge one of the most high-quality golf wedges available in the market.
Dynamic V-shaped Sole: This amazing wedge iron features a Dual-V Sole Grind and a considerably wider sole. This feature is a blessing for higher handicap golfers who struggle with turn interaction. This wide sole has a bit of heel and toe that assists forgiveness when hit through the turf and on bunker shots turf. If they dig in too early, the leading part of the V-shaped sole prevents going too deep. This V-shaped sole design makes this wedge intractable.
Premium Feel: This wedge has a solid and stable feel with a large face and is unexpectedly soft. The wedge doesn't sound 'clicky' at all, and although it isn't nearly as soft as muscle-back or forged wedges, it's not too different from that kind of wedges either. The center of gravity on this wedge is moved to the center of the club which gives it a solid, premium feel. This solid built makes it more sturdy and reliable. The CBX wedge is perfect for diggers. The narrower heel section lets the clubface be exposed for more high-tariff shots whenever required. This Incredible wedge has a level of control that is on par with the top-tier wedges available in the market.
Cavity Back: The CBX wedge iron comes with a blade-style and a cavity back construction that blends with your iron to provide long-distance and higher forgiveness to short games.
One could argue that the wedges that include a cavity back do not possess much versatility. However, that is not the case for the CBX. It was designed after doing rigorous research and proper testing, in order to assist golfers to hit different types of shots while the lightweight swing allows the transition from the pitching wedge to be more flawless.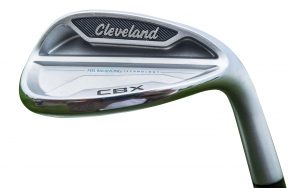 Pros:
• Rotex technology Face
• Dynamic V-shaped sole that is wide and resists going too deep when dug in too early
• Perfect for diggers
• Specifically designed to be higher performance than other wedges with a cavity back
• Solid but lightweight
• High stability and spin control
• Versatile.
Cons:
• Not ideal for players who prefer low bounce
• Some customers received the wrong size of wedge.
About the Brand
Cleveland Golf is a golf equipment brand that is owned by SRI Sports Limited. It is also a subsidiary of the company, Sumitomo Rubber Industries Ltd. The company is based in Huntington Beach, California.
Cleveland Golf started its journey as a company that produces replicas of classic golf clubs. At that time the company was called Cleveland Classics. In 1990, a ski equipment manufacturer named Rossignol purchased the company and changed the name to Cleveland Golf. Sales kept growing as clubs such as VAS woods and irons became more popular.
Cleveland Golf was the first company to market wedges that included multiple bounce options on their sole and individually mill grooves into wedge faces.
Our Verdict
Our opinion in this Cleveland CBX wedge review is that A good wedge players who have grown up on blade or tour style wedges should be satisfied by the CBX wedge as they are allowed to perform all kinds of shots and swings they want with these amazing wedges. Cleveland CBX offers the best of both worlds, for high single-figure players who should be played with cavity back irons, with traditional wedge performance thanks to a high forgiveness sole and innovative cavity back design. If the players are used to playing with split cavity irons, keeping the CBX wedge would be worth taking into consideration.
The technology used in this wedge is remarkable and we recommend you not be hesitant to make then purchase. It is not exceptional, but it provides you more features than you could ask for within the price point.
Final Words
So there you have it. By now you should know everything you need to know about the Cleveland CBX wedge. We assume you've also learned why you should get a wedge iron over other iron options and figure out if this is the one for you. The CBX wedge is manufactured with high-quality materials and is durable. The brand is also reliable and provides excellent customer service. If you think the Cleveland CBX wedge iron is the right choice for you, do not hesitate and make your purchase. We assure you, you will not regret it. We hope you enjoyed reading this article here, and we were able to help you find what you were looking for. Don't forget to leave your thoughts about this Cleveland CBX wedge review.